As you know, we recently turned five. And turning five, of course, got us thinking about our journey, how we got where we have and our destination, where do we want to go from here. It made us wonder about the countless young girls, women, trans* people and other marginalised groups who have been fighting their feminist struggles despite facing hindrances. We identify with their spirit, their resilience and their energy that keeps so many of us motivated.
We wanted to utilise our birthday as a special historic moment to celebrate the movement that has shaped us and our politics. We wanted to use it as a brilliant excuse to highlight what some of the young feminist organizers are doing all over the world. And we know that the one thing that unites them all, across regions, cultures and temperatures is their willingness to color outside the lines.

We have been plotting and planning this for a while now and are super excited to share this with you all. We are collaborating with a really cool and exciting young feminist artist collective  that has been coloring, painting, sketching within and outside the lines for a while now!
What is The Fearless Collective?
The Fearless Collective is a collective of artists, activists, photographers and filmmakers who use art to speak out against gender violence. It was formed in response to the gang rape that took place in Delhi, India in 2012, to attempt to (re)define fear, femininity and what it means to be fearless. Fearless was founded by by the artist Shilo Shiv Suleman and is managed by her and a core group of volunteers. The Collective continues to grow, with every art submission and volunteer.
Who is Shilo Shiv Suleman?
Shilo Shiv Suleman is a visual artist with a focus on the intersection of magical realism, art for social change and technology. In most recent years, she's been engaging with biofeedback technology, and the interaction between the body and art. She has created large scale installations that beat with your heart, apps that react to your brainwaves and sculptures that glow with your breath. She has also designed stages for some of the world's biggest festivals and conferences.  She is the founder and director of "the Fearless Collective" that engages with gender issues and art for social change in India.
What is this collaboration about?
This collaboration, or 'Fearlessly FRIDA' as we like to put it, is a celebration of the colorful spirit of young feminist organizers around the world who are pushing boundaries, breaking stereotypes and creating newer paths towards equality and justice. It is an effort to bring art into our lives and put the two together. It is a way of introducing artivism into the larger young feminist movement.
What is the poster campaign all about?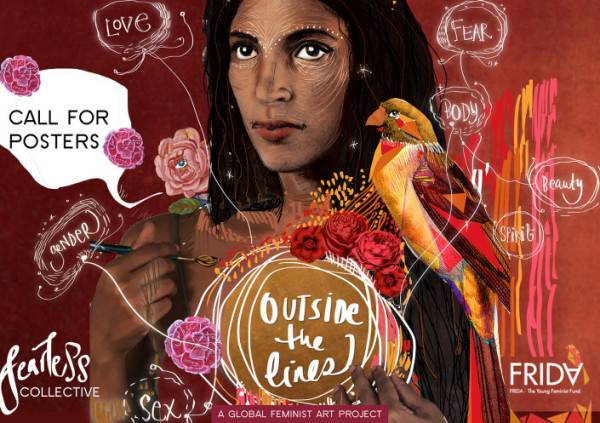 In the spirit of the collective, we are sharing this moment of Fearless FRIDA launch with all the young feminists around the world. To take part in this collaboration, we invite you to send us posters (made in any medium of your choice) around the theme of Fearless FRIDA: coloring outside the lines.
How have you stepped outside the lines in your own life? Outside the lines of expectations, of fear, outside the lines of gender roles?
Your poster will help us grow the collective of feminist artists behind this collaboration and weave feminist narratives from all over the world in a language understood by all – that is of art.
You can send your posters to fearlesslyfrida[at]gmail[dot]com  throughout the month of April with your name, location and a brief one-line note that you might want us to publish with it. The posters will be published on the websites of The Fearless Collective and FRIDA as well as our social media outlets and will travel the world with us on a global art tour.
So send us your posters and love!
What can we expect in the next few months?
More activities, building solidarities and using art to connect with each others' feminist struggles. The Fearless Collective will be working closely with some of our grantee partners on curating public space art interventions. Sounds exciting? In the next couple of months, we will be sharing more updates about activities, events, workshops and upcoming campaigns. Keep an eye on us and watch this space closely!